EnOcean celebrates 20 years of leadership in energy harvesting technology
Since the launch of its first energy harvesting module in 2001, EnOcean has been the pioneering spirit behind the worldwide success of the technology, offering innovation leadership in kinetic energy harvesting modules for battery-free, wireless switches.
Oberhaching, March 11, 2021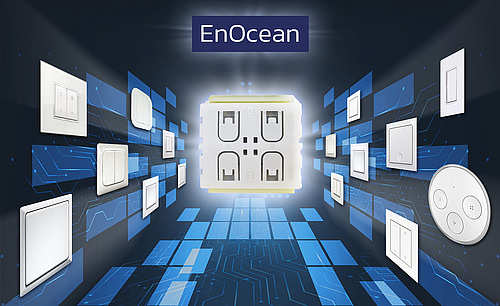 EnOcean is celebrating 20 years of leadership in energy harvesting technology. The company launched its first battery-free, wireless switch based on a kinetic energy harvesting module in 2001. Since then, EnOcean has constantly expanded its portfolio of kinetically powered modules. First introduced 20 years ago, the PTM (Pushbutton Transmitter) modules have established themselves as the international industry standard and are at the heart of every self-powered radio-based switch. The modules combine innovation, know-how and pioneering spirit and thus support EnOcean's role as market leader in this field.
Pioneer of energy harvesting
In spring 2001, EnOcean launched wireless switches that gain their energy from the press of a button at electrical engineering trade fairs in Germany. These switches quickly took on a pioneering role worldwide. Equipped with piezo-based energy converters, a module concept was developed that can be integrated into global switch designs. Just as an RJ45 plug grew from being a telephone socket to a worldwide standard for LAN cabling and today practically forms the backbone for the internet, the first fully functional modules based on a piezo element have established themselves over time as the worldwide PTM radio module standard with an electrodynamic energy converter. Thanks to EnOcean's pioneering work over 20 years, several million wireless switches have now been installed, delivering a wireless telegram at the press of a switch – no batteries or cables are required. EnOcean modules with the original PTM form factor today are the industry standard. Already at the original design stage and with every innovation, EnOcean is guided by the needs of switch manufacturers from all over the world and incorporates their know-how into the further development of the modules.
"I'm proud that EnOcean absolutely lives up to its status as pioneer and innovator of energy harvesting. Over 20 years our spirit of innovation has proved its worth and remains undimmed today. We see that through our activities the market is growing and energy harvesting is taking on an increasingly important role. With the PTM module we have set a standard that is second to none," says Andreas Schneider, CEO EnOcean.
The conscious decision to offer a flexible module paved the way for worldwide acceptance among switch manufacturers, installers and end users. Keeping the switch insert separate and placing the rockers on top provides maximum flexibility for switch designs and applications. Advanced features such as a Near Field Communication (NFC) interface allow installers to perform on-demand installation directly on site, quickly and securely.
But the company has not only developed further in terms of product technology. After starting with manual production, the modules are now manufactured on fully automated production lines with consistently high quality. The company continuously improves the products and incorporates feedback from its customers and users into innovative products such as solar-powered IoT wireless sensor modules in the identical original PTM form factor.
The switch modules from EnOcean not only support the radio standard of the same name managed by the EnOcean Alliance (ISO / IEC 14543-3-10 / 11) in the frequencies 868 MHz, 902 MHz and 928 MHz, but also Bluetooth® and Zigbee in the frequency of 2.4 GHz. The EnOcean wireless standard is ideally suited for building automation, smart homes and IoT applications due to its high reliability and a radio range of up to 30 metres. By supporting three leading standards, the company presents a constantly growing portfolio with self-powered radio modules for every use case.
A reliable partner
EnOcean has a global presence and has been able to constantly expand its cooperation with international switch manufacturers. Starting with Peha/Honeywell as the first switch partner, EnOcean now works with over 50 switch manufacturers such as Busch-Jaeger, Eltako, Feller AG, GIRA, JUNG, Niko, NodOn, Vimar and many more. The company has thus proven itself to be a reliable partner for the industry. Thanks to the constantly growing partner network, EnOcean is able to meet the most diverse requirements in design, form and colour around the globe.
Growing module portfolio
The PTM product family is constantly being expanded and adapted to the needs of customers. In addition to the possibility of encrypting the radio signals, NFC for configuring the module on site via the EnOcean NFC app is being successively introduced for all product variants. Through partnerships with Aruba and Cisco, the pushbuttons can be used as control elements for light, shutter and ventilation control, and can easily be integrated into IoT cloud solutions with intelligent data pre-processing without major infrastructure investments. And to round off the portfolio for standard applications such as the familiar two-way circuit for lighting, EnOcean is working on a module that takes up the concept of the first demonstrator from 2001 again: throwing the rocker turns on the light, without batteries and without cables.
About EnOcean
EnOcean GmbH is the pioneer of energy harvesting. Headquartered in Oberhaching, near Munich, the company delivers valuable data for the Internet of Things (IoT) with its resource-saving technology. For 20 years, EnOcean produces maintenance-free wireless switches and sensors, which gain their energy from the surrounding – from movement, light or temperature. The combination of miniaturized energy converters, ultra-low power electronics and robust radio technology based on open standards (EnOcean, Zigbee and Bluetooth®) forms the foundation for digitized buildings, services and production processes in the IoT. The self-powered solutions are used in building automation, smart homes, LED lighting control and industrial applications and thus help to optimize the CO2-footprint of buildings. As an innovation driver, EnOcean is a strong partner for more than 350 leading product manufacturers and has already succeeded more than a million buildings worldwide with energy harvesting solutions.
For more information, please visit www.enocean.de
Press Contacts
Janina Müller
EnOcean GmbH
T +49.89.67 34 689-57
M +49.160.97 82 85 61
janina.mueller@enocean.com