Aruba
IoT sensors from EnOcean and the Wi-Fi Access Points from Aruba make your office space smart in no time
In the Internet of Things (IoT), sensors are the sensory organs of intelligent buildings. They collect the raw data that form the basis for the analysis and visualization of a smart building. This includes environmental parameters such as temperature, humidity or light, but also information on whether doors and windows are open or closed, as well as data on space utilization.
Until now, the crux of IoT projects in the building sector has often been how the sensors deliver the collected data to the cloud safely and cost-effectively. Aruba and EnOcean have solved this challenge together.
Simply connect your Wi-Fi Access Point…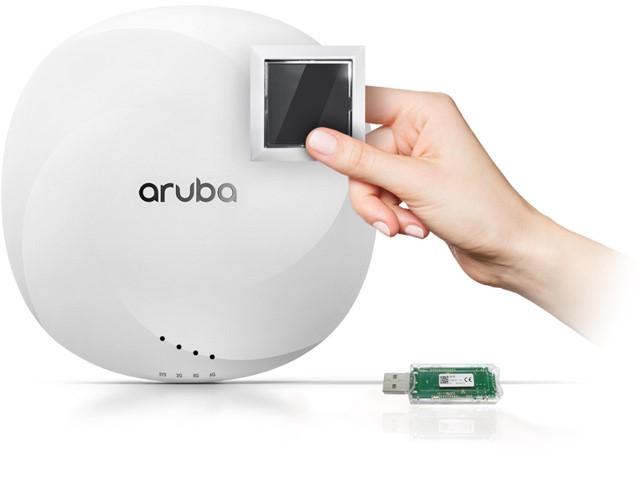 …and enable a whole world of wireless EnOcean devices.
Key benefits of the EnOcean and Aruba partnership
use the existing infrastructure to deploy IoT sensors without granting access to the company network
makes work spaces flexible for different and changing scenarios
reduces IoT project costs by using existing Aruba Access Points
easy installation of EnOcean sensors in Aruba's Wi-Fi network
sensors operate wireless without batteries and cables using energy harvesting technology
access to the EnOcean Alliance network and thus to members' interoperable and certified IoT applications
The wireless, self-powered EnOcean sensors send the raw data via an EnOcean USB stick to Aruba's Wi-Fi Access Point, which forwards the data to the cloud. This enables companies to use their existing IT infrastructure to integrate IoT sensors into their network via Wi-Fi in compliance with all security standards thanks to Aruba.
IoT Connector provides the data for every IoT application
The EnOcean IoT Connector is designed to deliver all necessary information for IoT applications provided by wireless sensors which are based on the EnOcean protocol. The deployment of the IoT Connector requires no additional hardware costs when an already existing infrastructure is used, for example Aruba Wi-Fi Access Points. All that is needed to send EnOcean IoT data is an EnOcean USB stick plugged into a Wi-Fi Access Point.