EnOcean appoints Dr. Peter Klein as Chief Financial Officer
Together with Andreas Schneider, CEO of EnOcean, Dr. Peter Klein will strategically develop the company at national and international level.
Oberhaching – May 14, 2020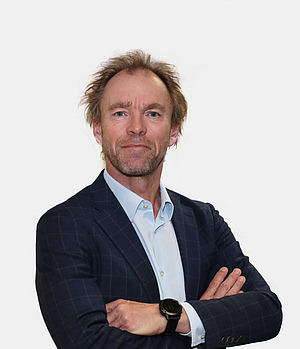 EnOcean, the pioneer of energy harvesting, has appointed Dr. Peter Klein as Chief Financial Officer. In this position, together with Andreas Schneider, CEO, he will strategically expand EnOcean's business in accordance with the long-term growth strategy in the self-powered IoT for the core markets of building automation, smart home, industrial automation and LED lighting control.
Dr. Peter Klein has more than 15 years' experience as CFO and General Counsel in Tech companies, leading strategic growth projects as well as projects around national and crossborder M&A transactions. His expertise ranges from managing KPI driven High Performance Teams to an extensive know-how in M&A and Corporate Development as well as a broad understanding of finance and legal concepts.
Before joining EnOcean Dr. Peter Klein was CFO at thinkstep AG where he led the company through a successful turnaround into a profitable exit. Dr. Peter Klein studied finance and law at WHU – Otto Beisheim School of Management in Koblenz and Kellogg School of Management in Chicago.
"I am delighted to be working with our new CFO Dr. Peter Klein on the strategic development of the EnOcean Group worldwide", says Andreas Schneider. "Dr. Klein is a perfect addition to our team, and with his experience in the sustainability sector he brings the right DNA to sustainably position EnOcean with self-powered IoT solutions for the exciting business opportunities currently arising from the climate debate and the global corona pandemic."
"I am very pleased that with Dr. Peter Klein we have been able to recruit a very experienced manager for the position as CFO", Johannes Rabini, chairman of the EnOcean supervisory board, adds. "With his many years of experience and expertise in this position, he perfectly adds to the EnOcean values and our corporate culture."
Commenting, Dr. Peter Klein says: "This new step is a great opportunity to bring my legal and financial expertise to the company and to further prepare EnOcean for its national and international growth. In my view EnOcean is perfectly positioned to serve the current megatrends IoT and sustainability."
About EnOcean
EnOcean GmbH is the pioneer of energy harvesting. Headquartered in Oberhaching, near Munich, the company delivers valuable data for the Internet of Things (IoT) with its resource-saving technology. For 20 years, EnOcean produces maintenance-free wireless switches and sensors, which gain their energy from the surrounding – from movement, light or temperature. The combination of miniaturized energy converters, ultra-low power electronics and robust radio technology based on open standards (EnOcean, Zigbee and Bluetooth®) forms the foundation for digitized buildings, services and production processes in the IoT. The self-powered solutions are used in building automation, smart homes, LED lighting control and industrial applications and thus help to optimize the CO2-footprint of buildings. As an innovation driver, EnOcean is a strong partner for more than 350 leading product manufacturers and has already succeeded more than a million buildings worldwide with energy harvesting solutions.
For more information, please visit www.enocean.de
Press Contacts
Janina Müller
EnOcean GmbH
T +49.89.67 34 689-57
M +49.160.97 82 85 61
janina.mueller@enocean.com