EnOcean Energy Harvesting: Battery-free PTM switch module with NFC and security
EnOcean has added an NFC (Near Field Communication) interface and safety functions to its recognized PTM switch module.
Oberhaching, April 16, 2020 – EnOcean, the world's leading developer of energy harvesting wireless technology, has extended the latest generation of its proven PTM 215 switch module for the EnOcean wireless standard with an integrated NFC interface and state-of-the-art safety functions. This means that in addition to the proven logic "press button", battery-free switches can now also be operated automatically with NFC readers and NFC-capable smartphones or tablets. At the same time individual settings are possible and the safety mechanisms can be activated and confirmed with EnOcean's own "EnOcean Tool" app. The module does not have to be removed from the switch housing, so even switches that are already installed can be configured with the app. The successful original PTM form factor is retained by the innovations, so that the new PTM module continues to fit into common switch designs for a battery-free control of lights, shutters and consumers in building automation and the smart home.
The PTM 21x switch module from EnOcean is at the heart of every battery-free switch and has become established as the industry standard. The latest generation of the PTM 215 switch module for the EnOcean wireless standard in 868 MHz now additionally integrates an NFC interface and meets the latest EnOcean Alliance safety standards. The NFC interface provides additional setting options, allowing the devices to be integrated easily and automatically into existing systems. NFC devices can be easily commissioned via NFC readers and NFC-enabled smartphones or tablets. Inside, the switch module still combines the ECO 200 electromechanical energy converter with an efficient radio module for an optimum energy yield at each keystroke and maximum transmission power. The switch module with NFC has the same original PTM form factor as all PTM switch modules from EnOcean, so it fits into all common switch frames.
Commissioning via NFC
Commissioning via the NFC interface with read and write function enables a variety of applications. A suitable app such as "EnOcean Tool" should have been installed on the NFC reader beforehand. The security mode can be easily activated using this type of commissioning. With the help of NFC commissioning, the respective project can be digitally documented and all relevant data for encryption can be stored in a project database. Commissioning via the NFC interface also allows a clear product identification. As an optional function, the product ID can be inscribed with all characteristics such as switch design and function. With this product ID, the installer knows in advance whether the switch module has been preconfigured for single or double rocker switches. For remote commissioning, the app also receives all necessary information via the NFC interface. In addition, the rolling code is sent as a sequence code with each telegram, as is common with other protocols, which means that the initial teach-in telegram is no longer necessary.
"The integration of an NFC interface now makes our proven PTM switch module even more attractive for installers and OEMs, thanks to the very easy commissioning of the modules", says Marián Hönsch, Product Manager at EnOcean. "The Commissioning of self-powered sensor and switch modules via NFC offers a simple solution for implementing a sensor system in a building as easily as possible and adapting it to specific requirements. That's why we at EnOcean see great potential in NFC. We are working closely with the EnOcean Alliance to ensure that in future NFC will be used extensively in products and solutions of the EnOcean eco-system."
Data security with NFC
A high level of data protection is guaranteed when exchanging data via NFC. One of the reasons for this is that NFC device and NFC reader must not be more than two centimetres apart. The fact that the device keys for EnOcean radio communication via NFC can be changed but not read also contributes to increased data protection. This complies with the current security standards of the EnOcean Alliance. In addition, a desynchronisation of transmitter and receiver is impossible because the rolling code, a continuously incrementing counter for concealment and authentication, is sent with each transmission. In addition, the new PTM switch module is 100 % backwards compatible with the functional modes of the previous generation of the PTM 210/215.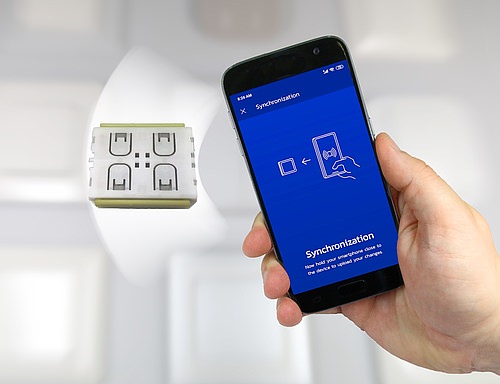 Configuring NFC devices from EnOcean with "EnOcean Tool"
For easy configuration and commissioning of EnOcean NFC devices like the next-generation PTM module, EnOcean has developed its own app that is available free of charge for iOS and Android. Installed on a smartphone, "EnOcean Tool" can be used to determine all product parameters and the devices can be easily integrated into existing systems. This makes the app particularly interesting for OEM's and installers. In addition, all product information such as device recognition or product ID can be read out. A secure access to the data in the NFC interface is guaranteed with a user-defined PIN code.
About EnOcean
EnOcean GmbH is the pioneer of energy harvesting. Headquartered in Oberhaching, near Munich, the company delivers valuable data for the Internet of Things (IoT) with its resource-saving technology. For 20 years, EnOcean produces maintenance-free wireless switches and sensors, which gain their energy from the surrounding – from movement, light or temperature. The combination of miniaturized energy converters, ultra-low power electronics and robust radio technology based on open standards (EnOcean, Zigbee and Bluetooth®) forms the foundation for digitized buildings, services and production processes in the IoT. The self-powered solutions are used in building automation, smart homes, LED lighting control and industrial applications and thus help to optimize the CO2-footprint of buildings. As an innovation driver, EnOcean is a strong partner for more than 350 leading product manufacturers and has already succeeded more than a million buildings worldwide with energy harvesting solutions.
For more information, please visit www.enocean.de
Press Contacts
Janina Müller
EnOcean GmbH
T +49.89.67 34 689-57
M +49.160.97 82 85 61
janina.mueller@enocean.com